2017-Mercedes-Benz-C 300-Coupes-Union-NJ
Introducing the New 2017 Mercedes-Benz C 300 in Union, NJ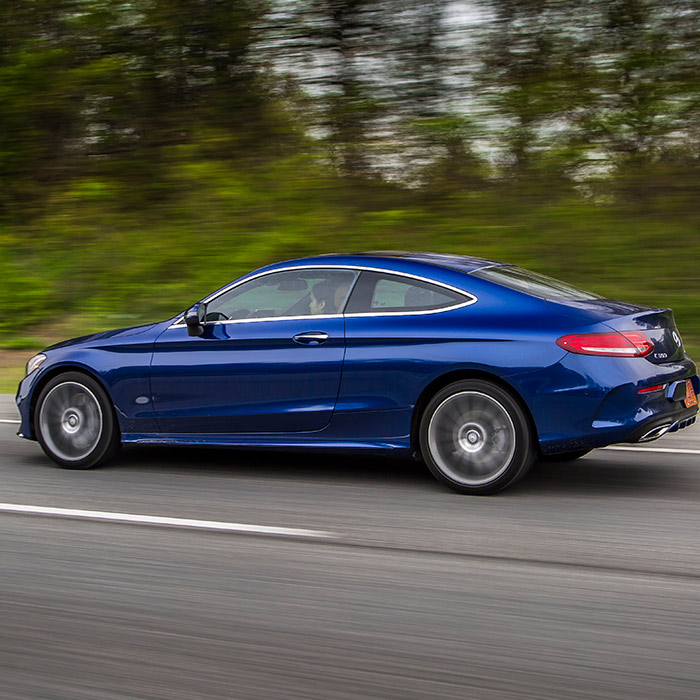 Experience the 2017 Mercedes-Benz C 300 Performance Coupe Today
The new 2017 Mercedes-Benz C 300, a performance coupe model, is now available for you to buy or lease from Ray Catena Union, which means this is your opportunity to transform the daily act of commuting to work or driving around and running errands from a chore into a satisfying thrill. Since it is a new Mercedes-Benz model, you are correct to assume that this two-door car has stunning luxury features that promote peaceful relaxation even while sit mesmerized and uplifted by the vehicle's exciting performance capabilities. Moreover, the proactive and technologically advanced safety features on both the interior and exterior of the C 300 Coupe make this performance-oriented vehicle also very practical for driving in areas of New Jersey like Union, Westfield, and Plainfield, where rough road surfaces and traffic backups can appear out of nowhere. If one of these or another nearby area is where you live, then we are a convenient dealership for you to visit. See us at Ray Catena Union to test drive a 2017 Mercedes-Benz C 300 model today!
Performance Capabilities
At Ray Catena Union, we pride ourselves on delivering the premium levels of customer service that you should expect from a high-end car dealership like ours. A key aspect of building the types of positive client interactions that we do is listening to your feedback and anticipating your needs. With regard to vehicle performance reviews, therefore, we have learned that you are less interested in learning esoteric engine specifications, such as the fact that the C 300 uses a 241-horsepower 2.0-liter turbocharged 4-cylinder engine, than you are with actual descriptions of how a vehicle will drive. For example, to put the engine in the 2017 C 300 Coupe into perspective, this two-door performance car can accelerate from 0 to 60 MPH in just 5.9 seconds. Moreover, you may care less that this car's transmission is a 7G-TRONIC® seven-speed automatic transmission than you are with the fact that its large amount of gears means the new C 300 has smooth acceleration and deceleration, making it comfortable to drive.
Design Features
Let us talk for a moment about the notable design qualities of the 2017 Mercedes-Benz C 300. The exterior design of this coupe is perhaps what is most remarkable at first sight. Low, slim, and sleek, the profile of the C 300 is unmistakably that of a performance-oriented vehicle, a conclusion reinforced by the bold styles of the available wheel choices. The front end of this vehicle, however, uses an elegant front grille and recessed bumper configuration to add an unmistakable luxury-car look to the C 300. The interior of this new performance coupe likewise fuses luxury and sport with leather-wrapped bucket seats that are styled like high-end furniture but hug your body in position to withstand the available horsepower of the C 300 just as the seats in a race car would.
Test Drive a C 300 Coupe in Union
Visit Ray Catena Union in Union, NJ Today! Proudly Serving Westfield & Plainfield, NJ
Now that you are familiar with the impressive performance capabilities and luxurious interior features and amenities in the new 2017 Mercedes-Benz C 300, we invite you to Ray Catena Union to test drive one of the versions of this performance coupe that we have in stock today. Moreover, since we have an excellent finance center located within our dealership, you can find C 300 financing options that suit your investment needs. In other words, whether you wish to lease a 2017 Mercedes-Benz C 300 in Union or purchase one of these two-door luxury cars to drive in nearby areas of New Jersey like Westfield or Plainfield, we can accommodate your objectives and do so with great customer service. We hope to see you soon at Ray Catena Union, where we are available to introduce you to the new MB C 300 Coupe today!