2019 Mercedes-Benz E-Class Interior
The new 2019 Mercedes-Benz E-Class features a wide high-resolution dual display (12.3 inches per display), touch-sensitive control buttons on the steering wheel, and enhanced ambient lighting with
 64 colors.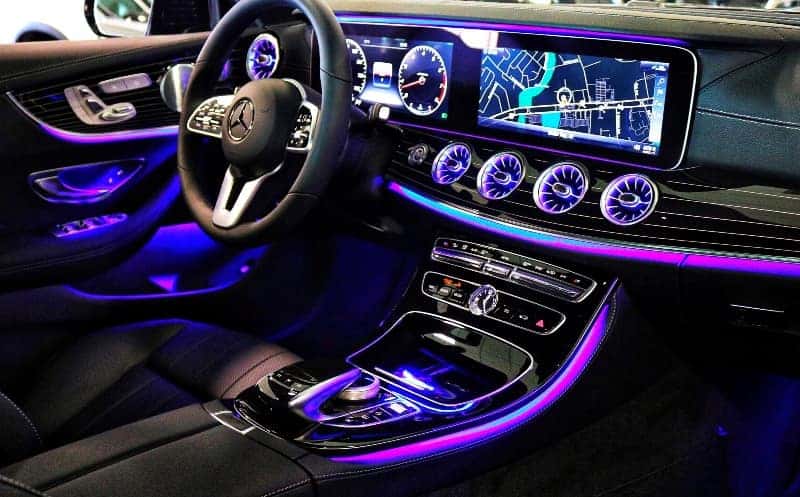 Eye-catching dual display.
The eye-catcher in the comfort-oriented, luxurious interior of the future E-Class is two displays each with a 31.2 cm (12.3-inch) screen diagonal and a resolution of 1,920 x 720 pixels. These merge visually to form a wide-screen cockpit, thus acting as a central element to emphasize the horizontal bias of the interior design. As the instrument cluster, this wide-screen cockpit contains a large display with virtual instruments in the direct field of vision of the driver as well a central display above the center console. A common glass cover results in a modern flat-screen look. The driver can choose between three different styles to select their preferred screen design: "Classic", "Sport" and "Progressive".
Touch control buttons in the spokes of the steering wheel.
The future E-Class is the first ever car to integrate touch control buttons in the spokes of the multifunction steering wheel. Like the surface of a smartphone, the buttons are touch-sensitive and therefore respond precisely to horizontal and vertical finger swipes. This enables the driver to control every function of the infotainment system in a simple, logical and intuitive manner without having to take their hands off the steering wheel. Having selected the desired function with a swipe, the driver presses the appropriate touch control button to trigger the function.
First class seats and concert hall sound.
A further highlight of the future E-Class is its seats, which create an ergonomic, sculptural impression with their torso form, uniting Mercedes-Benz's typical suitability for long journeys with a refined, sporty look. The seats are designed differently depending on the line.
Test Drive the E-Class at Mercedes-Benz of Union
Visit us at Mercedes-Benz of Union and take the 2019 Mercedes-Benz E-Class sedan, coupe, cabriolet, or wagon for a test drive! Find a new Mercedes-Benz E-Class for sale, learn more about it, and/or contact us with any questions.
Disclaimer:
All content belongs to Mercedes-Benz and is not representative of Mercedes-Benz of Union.
https://www.mercedes-benz.com/en/mercedes-benz/design/models/next-level-interior-design-for-the-future-e-class/