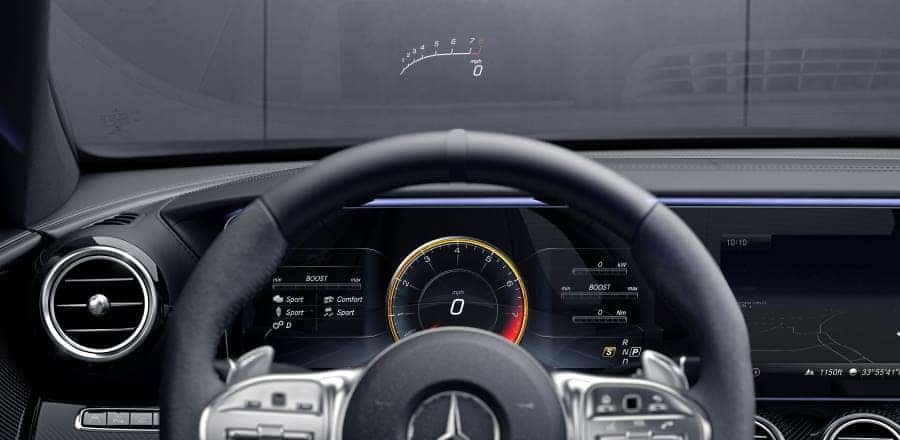 Head Up Display on Mercedes-Benz Vehicles
Head-up display (HUD) is a technology, available on most new Mercedes-Benz models, that shows digital information on your windshield, such as speed, GPS directions, cruise control settings, current traffic conditions in your surrounding area, and more.
With head-up display, you can keep your eyes on the road while accessing the information you need for driving. You can also adjust the display on your windshield according to your preferences and the height of your eye level, so it stays easy to see without obstructing your view.
Advantages of Driving Your Mercedes-Benz with Head-Up Display
HUD provides information on the windshield on your Mercedes-Benz in a way that's intuitive and close to your line of sight, giving you several key advantages compared to the traditional "head-down" cluster of instruments on your dashboard.
Key Head-Up Display Advantages include:
Eyes on the road

— Increased time spent with your eyes focused on your surroundings, increasing the safety of you and your passengers

Easy access

— Quickly obtain real-time information that makes your drive more enjoyable, on-track, and safe

Reduction of multi-tasking

— Simplification of simultaneous tasks, like monitoring your speed and vehicle performance, navigating to your destination, and driving safely

Stay alert

— Reduction of driver fatigue, thanks to tasks being easier to manage
Take HUD a step further, in the Mercedes-Benz S-Class
"Augmented Reality Head-Up Display" (or AR-HUD), available in S-Class models, is an even more advanced technology that assists you as you drive and navigate the roads. Augmented reality technologies include Active Lane Keeping Assist and Active Distance Assist, along with additional features like arrows that show you when the roads turn or indicators that show you the best lane to be in to make upcoming turns.
Which Mercedes-Benz Vehicles Come with Head-Up Display?
The majority of new Mercedes-Benz vehicles now come with Head-Up Display. These models include:
Sedans:
Coupes & Convertibles:
SUVs & Wagons:
Mercedes-AMG® Models:
How to Use Head-Up Display
Head-Up display is easy and convenient to use. Simply press the HUD button on the left side of the dashboard to toggle it on and off. You can also adjust your HUD setting following these step-by-step instructions:
Use your steering wheel's "Home" button and then navigate to the Settings screen

Scroll to "Head-Up Display" option with the up and down arrows and press "Okay".

Use your up and down arrows to select "Position" or "Brightness". Press "Okay" to select the category you want to adjust.

Use your up and down arrows again to adjust additional settings and press "Okay" to save your changes.
Explore Head-Up Display and More at Ray Catena Mercedes-Benz of Union
Head-up display is a valuable feature for both safety and convenience, helping to keep you in touch with important vehicle information while keeping your eyes on the road. It reduces driver fatigue, resulting in a safer, more pleasant drive.
To learn more about head-up display or to test drive a vehicle that features HUD, come visit our Union, NJ dealership or contact us. At Ray Catena Mercedes-Benz of Union, we love to give our customers the best experiences, and we're excited to show you everything HUD has to offer on new Mercedes-Benz vehicles.