Mercedes-Benz A-Class Lease & Finance Specials
Although the 'A' in the Mercedes-Benz A-Class isn't a grade, this classy sedan certainly deserves an A+ for its sleek design, comfortable cabin, powerful engine, and innovative technology and safety features.
We are currently updating our monthly offers. Please check back shortly for updates.
In the meantime, here are some links that you might find helpful:
Sleek Design of the Mercedes-Benz A-Class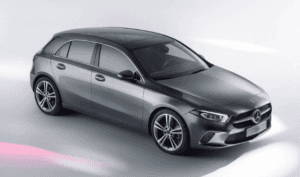 Investing in the Mercedes-Benz brand, you want to make sure that your vehicle stands out among the rest of the cars on the road. While the Mercedes-Benz Star certainly lets other drivers know that you care deeply about your vehicle's power and style, the design of the car also needs to outshine the competition. With this in mind, Mercedes-Benz has created the all-new A-Class.
The A-Class sedan combines a toned physique with iconic details. It has a wide, subtly forward-leaning grille and a clean, aerodynamic design to cut through traffic. The LED lighting on the inside and out is sure to get you noticed, and the available active LED headlamps (pioneered by Mercedes-Benz) will definitely help you stand out.
And to keep your A-Class moving, you have standard 17-inch wheels as well as 18-inch and 19-inch wheel options. Two come with AMG®️ bodywork, a chrome diamond-block grille, sporty chassis, and cockpit items. The black accented Night Package delivers two others as well.
Comfortable Cabin
While the A-Class's sleek design stands out on the road, you can enjoy the attention in comfort and luxury in the cabin. It is roomy and refined including power front seats with memory, has dual-zone, double-filtered climate control, and a panorama roof. Interior options also include ventilated seats, a hands-free trunk opener, and 64-color ambient cabin lighting to ensure you have the most comfortable and enjoyable ride possible.
To make sure that you are able to stay connected while driving, Mercedes-Benz has included dual 7-inch displays (optional 10.25-inch displays are also available for a wider view). Circular dash vents also connect to the optional 64-color cabin lighting.
Under the Hood
Other than unique style and design, Mercedes-Benz is also known for its athletic performance. The A-Class is also agile and active with its turbo power, seven speeds, four driving modes, and three suspension options. You will definitely enjoy the 188 horsepower and 221-lb-ft of torque in the A 220 and the all-wheel-drive A 220 4MATIC® sedans.
To fully experience the A-Class, DYNAMIC SELECT allows you to switch between the four driving modes and alter the shift points, throttle response, and steering feel. Test out ECO, Comfort, Sport, and customizable Individual modes for all of your driving moods. And the AMG® version will match your sporty, athletic mood with its lower ride height.
You never have to worry about how your A-Class will handle thanks to the lightweight, agile, variable-torque 4MATIC® because it can tackle the harshest winter weather as well as quick turns and cornering. The A 220 4MATIC® will automatically send power from the front to the rear wheels in response to available traction to ensure the safest driving experience. Independent suspension on all four wheels also adds to the A-Class's quick reflexes on the road.
Innovative Tech Features of the Mercedes-Benz A-Class
Technology has become ever-present in our modern lives, so your A-Class should be no different. The Mercedes-Benz user experience ensures that the technology in your A-Class is easy to use, natural, and intuitive. From touch controls on the dash, console, and steering wheel to voice command that learn and adapt to your needs, you will always have the innovation you want.
New advances in safety also give you the best ride experience possible by relieving some of the stress of driving. You can change lanes with a simple tap of the turn signal, get assistance steering, stop-and-go pacing in traffic, and slowing for an offramp. Finally, if a crash is imminent, safety sensors will help protect your hearing before impact.
Mercedes-Benz A-Class Lease and Financing Options at Ray Catena Union
If you have decided that the Mercedes-Benz A-Class is the right sedan for you and your family, contact Ray Catena Union. We have fantastic lease and financing options available to you and are happy to discuss them all so you can make the best financing decision for you. Our helpful salespeople are well-versed in all Mercedes-Benz models as well as leasing and financing options. Contact us today to learn more and to make an appointment for a test drive of the A-Class.