How to Take Care of Your Tires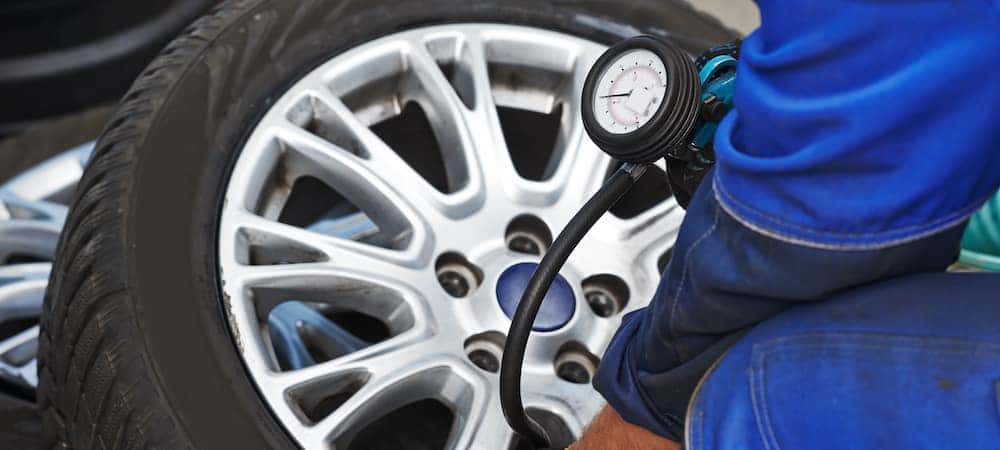 If you want to make sure your vehicle is safe to drive on Westfield, it's essential to make sure your tires are well-cared for. Good tire health relies on three basic elements: tire pressure, tire tread depth, and tire rotation. Learn about all three at Mercedes-Benz of Union, and contact our service department if you have any questions!
How Do I Check My Tire Pressure?
Low tire pressure can mean diminished steering and braking abilities, as well as excessive friction which will wear out your tire treads faster than normal. Follow the steps below to check your tire pressure, and consult your vehicle owner's manual for more specific information.
To find out the recommended tire pressure, simply look on the sidewall of your tire and you'll see the ideal PSI (pounds per square inch), which is usually between 30 and 35.
If you have your own tire gauge, insert it into the nozzle to get a tire pressure reading.
If you don't have a tire gauge, you can pick one up from many auto shops and hardware stores.
You can also simply head to a gas station with air pumps. While you are filling up your tires there it will indicate your current tire pressure.
If you are hesitant to try your hand at filling your tires, head to your local Scotch Plains area service center or tire center and they will be able to do it for you.
How Do I Check My Tire Tread Depth?
Tire tread depth should be no lower than 2/32 of an inch. When your tires are over-worn and not replaced, this can cause slippage on the road, a flat tire, or even a blowout, which could all be disastrous for you and other vehicles around you. Here are a few ways to check whether your tires have worn too thin and need replacing.
Use a specially-designed tire tread depth gauge.
Stick a ruler in between the tire treads to see if they are at 2/32 of an inch.
Some tire brands have a built-in red line to indicate if the treads have reached the 2/32 of an inch.
Stick a penny between the treads with Lincoln's head facing into the groove. If you can see all of his head, it's time to replace the tire.
With any of these methods, be sure to check all tires and multiple different areas of each tire.
Why is Tire Rotation Important?
Whether you have front-wheel drive, rear-wheel drive, or all-wheel drive, each individual tire will wear out differently on Bayonne roads depending on your driving style, road conditions, and more. Below are some tire rotation facts to be aware of for the best car tire care.
Tire rotation extends the life of each tire and it helps to make sets of tires last longer as a whole.
By rotating your tires, you ensure that no single tire wears out faster than the rest.
Tires should be rotated every 3,000-5000 miles or about every time you go in for an oil change.
Since tire rotation requires special equipment, it's best to schedule service ahead of time.
Get Top-Notch Vehicle Care at Mercedes-Benz of Union
When you are ready to get new tires or other Mercedes-Benz OEM parts in Union, visit our Parts Center, or find out more about Mercedes-Benz service options like Service A and Service B.
More Tips From Mercedes-Benz of Union
If you are noticing increasing key fob difficulties for your Mercedes-Benz, it may be time to replace the key fob batteries. Find out how to replace it at Mercedes-Benz of Union near Scotch Plains and contact us if you have any questions! If you are still having trouble with your keys after following our guide below, schedule service…

Mercedes-Benz Service A* is a regular maintenance interval performed after the first 10,000 miles or first year, whichever comes first. During this service appointment, your vehicle will receive: Synthetic motor oil replacement Oil filter replacement All fluid level checks and corrections are dependent on factory-recommended service intervals for your vehicle's year and model Tire inflation…

Are you looking to find ways to ensure your Mercedes-Benz is running in top shape and will last for years? It's important to make sure you're bringing your vehicle to Mercedes-Benz of Union for routine maintenance! We have a Mercedes-Benz service schedule that's easy to follow, and whether you're in need of Mercedes-Benz Service A or Service…